Joining the Duluth Area Horse Trail Alliance is easy. You can print out this DAHTA 2022 Application for Membership and mail your check to the address on the form. (Write 2023 at the top!)
Or, you can join online with any major debit/credit card.
DAHTA uses PayPal, but you don't need an account.
Before you pay online, please read "No PayPal Account Needed" and "How to Register," below.
---
Single/Individual Membership: $20
Includes one person – you or someone else!
---
Family Memberships: $25
Includes you, your spouse/partner/significant other, and children up to age 18.
---
Donate
Not interested in a membership but still want to support the Alliance? Make a donation in any amount right here!
---
No PayPal account needed (3 Steps)
1.
After clicking the yellow Pay Now button on the website, you'll see the page below. Choose the "Pay With Debit or Credit Card" option:
2.
After Step 1, you will go to another page to enter your credit card information (see below). Choose "No I don't want an account now" and click "Pay Now."
3.
You go to a confirmation page.
Do not click the "Agree and Continue" button.
Just click the little blue "Not Now" text below it.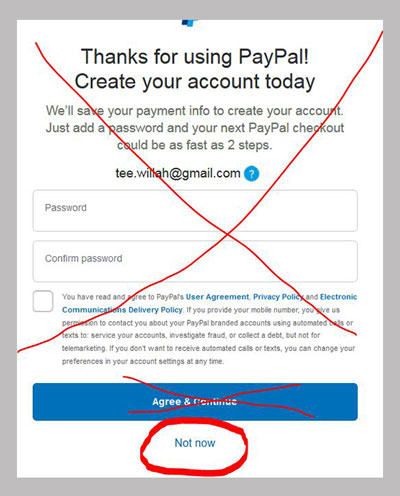 How to Register
After you pay, you will get an email with a link to finish your member registration in the Duluth Area Horse Trail Alliance. This will require you to come up with a username and password.
Please email the Duluth Area Horse Trail Alliance if you have problems.